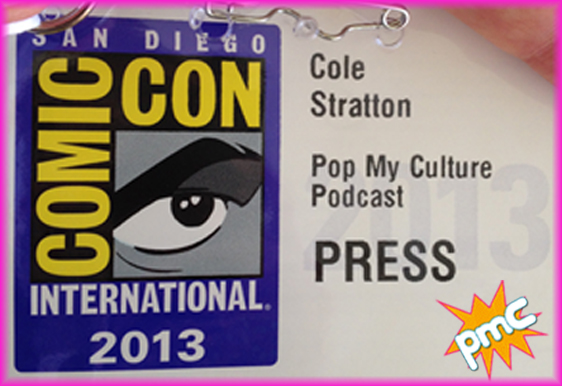 This past weekend, over 100,000 badge-holders descended upon San Diego's convention center and Gaslamp quarter for that yearly ode to all things geeky (and not so geeky) — with hundreds of panels celebrating TV, Film, illustrated arts, podcasts, you name it. Comic Con 2013 started off with a bang (or more of a whimper for Hall H, the line of which became the con's most popular hotel Friday through Sunday) on Thursday, and the co-host of the podcast, Cole Stratton, was there to take in as much as he could. Vanessa, sadly, was tied up finishing up her classes at The Groundlings and was unable to attend this year. What follows is a journal-ish recanting of Cole's adventures in and out of the Con!
Thursday, July 18th, 2013
After a fairly slow trek down the 405 S (hey, Oceanside, what's the deal with the traffic that ALWAYS SEEMS TO BE THERE? WHAT IS YOUR DARK SECRET, OCEANSIDE AND TO A LESSER EXTENT CARLSBAD?), I arrived at my outlying Cruise Ship Parking lot and hiked over to the Lobby D to pick up my badge (pictured above). And since I wanted to make sure I got a peek inside it during the Con, I immediately joined the Hall H line, which was small due to the counterprogramming going on in Ballroom 20 (X-Files, Psych, etc.). A few minutes later, and I was greeted by some much-needed air conditioning and my first panel of the day.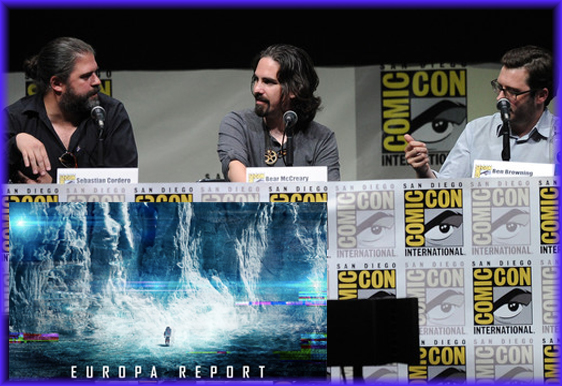 Europa Report (1:10pm – 2:20pm. Hall H)
Sebastian Cordero (Director)
Bear McCreary (Composer)
Ben Browning (Producer)
Karolina Wydra (Dr. Katya Petrovna)
Steve Vance and Kevin Hand (JPL Scientists)
Dr. Phil Plait (Astronomer, moderator)
A docu-style space thriller exploring deep-space exploration and a moon-walk gone wrong on the far away moon of Jupiter Europa, Europa Report is a realistic-looking flick full of breathtaking star-drenched vistas mixed with confessional-style camera talks from the cast. Available on iTunes and demand, and arriving in theaters in early August, the film looks to be best experienced on as big a screen as you can find, though a good home theater set up should work nicely. The panel itself was interesting, if not a bit overlong. Moderator Plait, although a credible and enthusiastic moderator, talked a bit much and made it a bit too much about himself, not engaging the fairly sizable crew assembled to talk up the film. McCreary's score is outstanding (he's scored Battlestar Galactica and The Walking Dead, amongst others), and Director McCreary had some good insights into what it took to recreate the space capsule in a building in Brooklyn. An fairly solid panel, but a surprising one to house in Hall H, which was maybe 1/2 full, at best.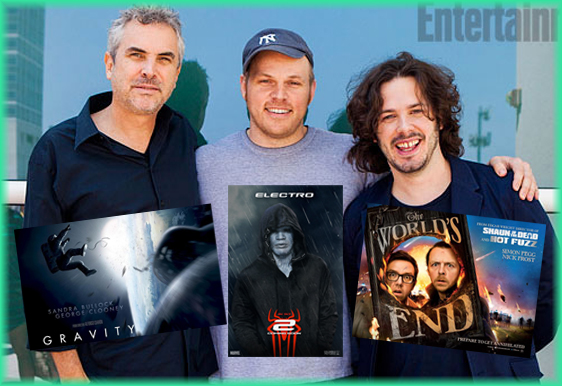 Entertainment Weekly's The Visionaries (2:30pm-3:15pm, Hall H)
Marc Webb (Director, The Amazing Spider-Man 2)
Alfonso Cuaron (Director, Gravity)
Edgar Wright (Director, The World's End)
Anthony Breznican (Moderator, Entertainment Weekly)
One of the most interesting panels of the Con, EW gathered together three of the best genre-pushing directors working today to discuss the state of film today, their current projects, and where filmmaking is going in the years to come. Cuaron regaled us with stories about filming his newest film Gravity (a major "miscalculation," as Cuaron envisioned a one year shoot that 4 1/2 years later still isn't completed). As the film is full of shots of stranded astronauts floating in space, they designed a room where the actor is static and everything else around them is rotating, a technology that they hadn't worked out a few years back. Seems like Cuaron is always pushing the enveloping, trying things that are super difficult to achieve — as evidence in his masterpiece Children of Men (one of my favorite films of all time). Cuaron spoke of that famous twenty minute battle sequence that is just a single shot — it took 12 days to film, with a maximum of two takes per day, and it wasn't until the very last take that they "got it," even though Cuaron tried to call cut when blood splattered the lens. Thankfully, an explosion muffled his call, and his cinematography signaled him to continue, and that happy accident has become an iconic image in the film. 3D was also discussed at length, with Cuaron conceptualizing his latest as a 3D space thriller, and Wright releasing his latest, The World's End, in "glorious 2D, people!" A super engaging discussion with three truly incredible filmmakers.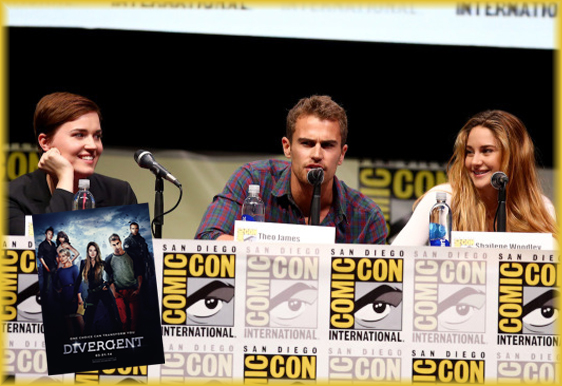 Divergent (3:50pm-4:50pm, Hall H)
Veronica Roth (Author, Divergent series)
Neil Burger (Director)
Shailene Woodley (Tris)
Theo James (Four)
Miles Teller (Peter)
Zoe Kravitz (Christina)
Maggie Q (Tori)
Ansel Elgort (Caleb)
Mekhi Phifer (Max)
Ben Lamb (Edward)
Ben Lloyd-Hughes (Will)
Christian Madsen (Al)
Chris Hardwick (Moderator)
The first film based on the New York Times Bestseller, Divergent was met with some decent enthusiasm from the now-full Hall H crowd (the combo of this and Ender's Game was probably was finally filled it that day). A futuristic fable about a post-war Chicago, divided into different factions based on characteristics to help society function, it follows the young Tris (Woodley) as she leaves her family behind and joins a faction based on bravery. A little bit Twilight and a little bit Hunger Games, it's easy to see why this might become a succesful film franchise. The trailer (never before seen), has some promise. Lovely author Roth (who finished the first book while still a grad student) seemed thrilled and a little overwhelmed by her fiction becoming a major motion picture, and the panel of young actors (many of them sporting British or Australian accents, a serious trend and most panels this year and years prior) did their best to make an impression on the one question each they mostly got. Highlight of the panel came when an audience member started to ask an question about Ender's Game, not realizing that we hadn't gotten to that panel yet. Hardwick milked it for all it was worth.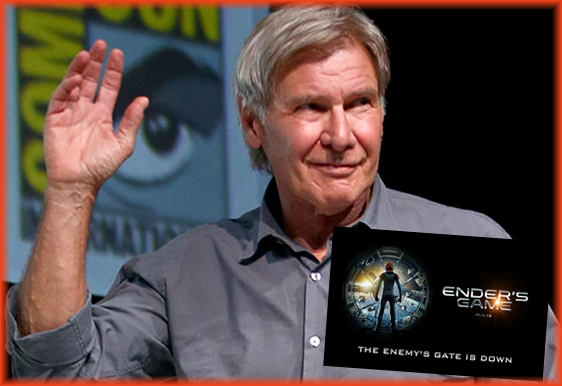 Ender's Game (3:50pm-4:50pm, Hall H, shared with Divergent)
Harrison Ford (Colonel Hyrum Graff)
Asa Butterfield (Ender Wiggin)
Hailee Steinfeld (Petra Arkanian)
Roberto Orci (Producer)
Gavin Hood (Director)
Chris Hardwick (Moderator)
The showpony of the day, the much-anticipated Ender's Game, based on the classic sci-fi novel by controversial author Orson Scott Card, had a pretty snazzy trailer with brand-new footage in it, and a spirited panel, highlighted by director Hood's enthusiasm and Harrison Ford's now-trademark interview crankiness. Often rolling his eyes at moderator or audience question, Ford barked out short answers, though he was quick to defend the film itself after the first tough question of the day regarding the comments by author Card, stating, along with producer Orci, that the film itself is about acceptance and tolerance, and that the studio and all those involved in the production of the film strongly support the LGBT community. When asked if Han Solo would make a good soldier in Graff's army, Ford replied, "I don't think Han would make a good solider in anyone's army. He's an independent contractor." Hardwick nearly stopped the "If Han Solo and Indiana Jones were to meet, what would they say to one another?" question, but, since he wanted to know to, he let it slide. Ford: "Um, Hi? Hello? How are you doing?" So there's your answer, Ford fanatics.
As it was nearing dinner time, I left Hall H and walked around a bit to check out costumes (many, many Slave Leias, per usual) and grab some food (street tacos!), I then dropped off my stuff in the car and grabbed a sportcoat to head to the evening's afterparties. Much fun was had at Felicia Day's Geek & Sundry lounge and after party; not much fun was had at Machinima's shindig at Fluxx, which was a loud, jammed packed Studio 54 kind of scenario. I think I got pregnant just standing there. Day two had many more panels and drinking in store…
Friday, July 19, 2013
Day two I began early with the vague notion of getting into Hall H, which was an amazing collection of riches. However, nearly 20,000 people were already in line for the 7,000 person hall before 6 am, so that plan quickly changed — and the day was still full of many highlights as I diverted to Ballroom 20 (around 4k in capacity, I believe). I was able to quickly navigate the queue and got in for the second half of the day's first panel, which was…
Inside The Big Bang Theory Writer's Room (10:00am-11:00am, Ballroom 20)
Bill Prady (co-creator, executive producer)
Steve Molaro (executive producer, showrunner)
Dave Goetsch (co-executive producer)
Steve Holland (co-executive producer)
Maria Ferrari (co-executive producer)
Eric Kaplan (co-executive producer)
Jim Reynolds (co-executive producer)
David Satlzberg (science advisor)
Johnny Galecki (Leonard Hofstadter)
Melissa Rauch (Bernadette Rostenkowski, moderator)
Sadly, I missed the beginning of this panel, which evidently started with a video of Stephen Hawking singing the show's theme song! Rauch, who plays Bernadette on the series, was well chosen to charismatically lead this often hilarious conversation on the history and future of the cultural phenomenon. From answering all matter of geeky questions (with one of the writers slamming Green Lantern, saying "He got his name after the thing that gave him his power. That's like having all the powers of an iPad but calling yourself Battery.") The crowd reached a fever pitch when an audience member asking a question in full on Princess Leia's Jedi disguise, removed the voice modulator and mask to reveal it to be none other than series star Johnny Galecki! For such a highly rated show, it's amazing that it reaches an audience that normally would shun something from the creator of 2 1/2 Men. It was nice to see the writers take center stage, even if the panel moved down from last year's Hall H location.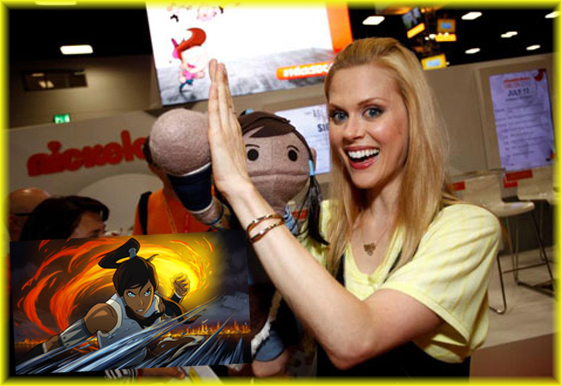 Nickelodeon's The Legend of Korra returns! (11:15am-12:00pm, Ballroom 20)
Bryan Konietzko (executive producer, co-creator, moderator)
Michael DiMartino (executive producer, co-creator)
Joaquim Dos Santos (co-exectutive producer)
Janet Varney (voice of Korra)
David Faustino (voice of Mako)
P.J. Byrne (voice of Bolin)
I confess: I've only seen a couple of episodes of the hit Nickelodeon series The Legend of Korra, the latest in the Avatar series of anime-style cartoons. Which is really sad, since my best friend Janet Varney (whom I co-created and produce SF Sketchfest with, and write with at RiffTrax, and do improv with and more!) voices Korra! Still, I was dripping with pride as my gal Friday took the stage for her second Con to an absolutely adoring crowd. Book Two: Spirits, debuts on Nick sometime in September, but that didn't stop the powers that be from showing not only a trailer, but the entire first episode of the new series! It was met with much enthusiasm, as were sketches from the upcoming season.  It was great to catch the panel this year, as last year it proceeded the Firefly reunion, so I had absolutely no chance of getting in.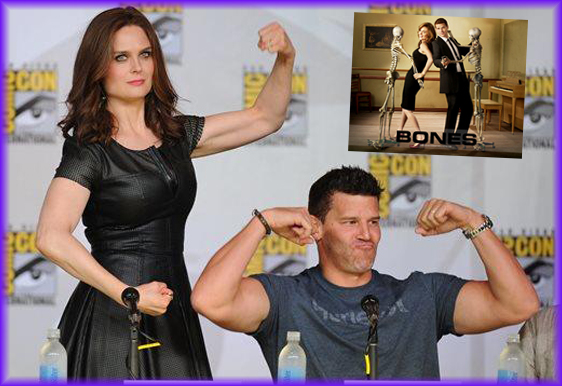 Bones (12:30pm-1:30pm, Ballroom 20)
Hart Hanson (creator, executive producer)
David Boreanaz (Brennan)
Emily Deschanel (Bones)
Ian Toynton (executive producer)
Will Keck (moderator)
After a montage of various dead bodies from previous episodes, the yearly panel for the hit FOX show Bones started off quickly with a "character" marriage proposal from Brennan to Bones in front of the panel table. Moderator Will Keck asked the stars to read a scene in character from the previous season instead of doing a retread video. After a bit of hesitation, they agreed to read it, but only if they could switch characters. Deschanel hilariously sended up Boreanaz's macho persona, and the two bantered playfully throughout the panel. Boreanaz did send a bit of a jab Nathan Fillion's way ("I only want to work four days, not five") which was actually met with a chorus of disapproval, but David backpeddled quickly. Hart Hanson, who was trying to guard series secrets, let is slip that serial killer Pilant will be meeting a demise at some point in the future, a detail he kicked himself for revealing. A fun panel, even for those unfamiliar with the show.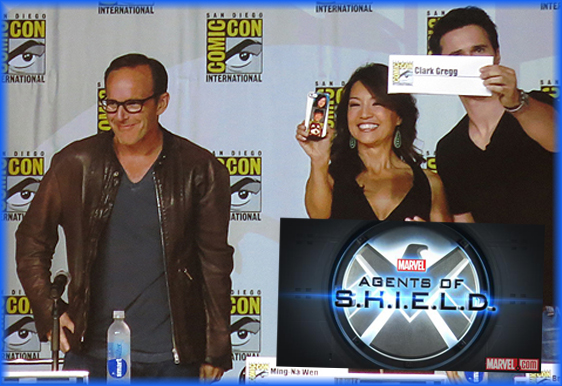 Marvel's Agents of S.H.I.E.L.D. on ABC (1:45pm-3:00pm, Ballroom 20)
Jeph Loeb (Marvel's head of television)
Joss Whedon (creator)
Jed Whedon (writer)
Maurissa Tancharoen (writer)
Clark Gregg (Agent Phil Coulson)
Ming-Na Wen (Melinda May)
Brett Dalton (Grant Ward)
Chloe Bennet (Skye)
Iain De Caestecker (Leo Fitz)
Elizabeth Henstridge (Jemma Simmons)
The highlight of the entire con for me, Marvel's S.H.I.E.L.D. panel was all you could ask for in a tightly packed hour: a panel full of high-profile guests (Joss Whedon, the amazing Clark Gregg, who got a massive standing ovation) and new cast members, a quick and fun Q&A, and a completely unexpected screening OF THE ENTIRE PILOT. Yes, 44 minutes of Whedon's TV spin-off from his mega-hit The Avengers, headlined by Clark Gregg's previously deceased Agent Coulson (his death is explained, sort of), who builds his team of S.H.I.E.L.D. operatives, including new recruits Grant and hacker Skye, to help save/stop an experimental super soldier/nice guy with bad luck, played by Angel's J. August Richards. The pilot perfectly sets up a series that will have close ties to the Marvel universe and hero system, but still focus on the team of operatives and their charismatic leader (well, the one without the eye patch). Colbie Smulders (Agent Hill from The Avengers and star of How I Met Your Mother) makes an appearance in the pilot (one hopes she'll join the cast full time when HIMYM concludes this season), as does Firefly's Book (Ron Glass). The series suffers a little bit from the TV-budgeted effects, but it's a seriously entertaining and confident debut that should translate into a massive television sensation. Marvel's head of TV Jeph Loeb even got the crowd to cheer the premiere date: September 24th on ABC! Set your DVRs, America. It's fucking good.
Completely wiped from an amazing day of programming, I hit the exhibition floor to buy some amazing goodies (including a fantastic Phil Coulson, Agent of SHIELD t-shirt from welovefine.com), and then it was time to dump the stuff again, suit up (a little) and head to a series of after parties nestled in the Gaslamp district, including The Ploom Arcade by Rebel Studios, and Chris Gore's Nerdtacular party above Fred's Mexican Cafe. Shout outs to Sara Morrison, Meredith Placko, Rachael Porter, Janet Varney, Steve Agee, Craig Cackowski, Rob Paulsen, Maurce LaMarche, Andrea Romano, and all the others I ran into and hung out with at these get togethers, on the street, and on the convention floor. An exhilarating and exhausting day, the Hall H line was already stretching to Toronto, so I decided to sleep in a bit before starting fresh around 10 am for my final day of the Con.
Saturday, July 20th, 2013
Cruise Ship Parking, a bagel sandwich, a brief stay in the Indigo Ballroom line, but when it was announced that we had like a 2% chance of getting into the How I Met Your Mother Panel, I raced over to Ballroom 20 again to catch a couple of panels on Matt Groening's animation classics.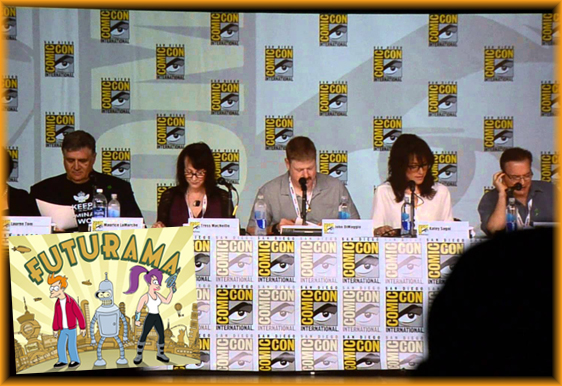 Futurama (12:00pm-12:45pm, Ballroom 20)
Billy West (Philip J. Fry)
John DiMaggio (Bender)
Katey Sagal (Leela)
Maurice LaMarche (Kif Kroker)
Tress MacNeille (Linda)
Phil LaMarr (Hermes Conrad)
Lauren Tom (Amy Wong)
David X. Cohen (executive producer)
Matt Groening (creator)
With the series ending, the cast and creators pulled out all the stops for the final (*sob*) Futurama panel at Comic Con. The cast did a spirited table read of Act 1 from the series finale episode, and then they screened the fully-animated Act II from that same episode. Concerning a time button that lets the user set the clock back ten seconds (but takes ten seconds to recharge), it culminates in a botched marriage proposal, a never ending plunge off the Vampire States Building, and a hilarious character death (maybe — we'll have to watch the finale for Act III). Great swag was given away to audience questioners, and it was revealed that the Fry's name inspiration came from Groening's dad, whose name was Homer Philip Groening. Hinted at (and confirmed in the following panel) is that a Simpsons/Futurama crossover is in the works! A nice send off to a show that has been sended off before to come back from the dead — is this truly the end, or will the internet and fans find a way to save it yet again?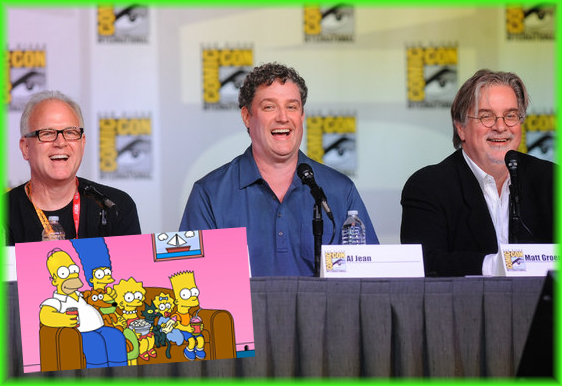 The Simpsons (12:45pm-1:30pm, Ballroom 20)
Matt Groening (creator)
Al Jean (executive producer)
Mike Anderson (supervising director)
David Silverman (consulting producer)
We Put the Spring in Springfield! (musical guest)
What better way to wrap up my weekend of panels than a look at the upcoming season of TV stalwart The Simpsons? They showed us the opening credits of the latest Treehouse of Horror episode, guest director by horror auteur Guillermo del Toro, which features Simpson-ized versions of some of his film characters (The Pale Man and the Faun from Pan's Labyrinth) as well as tons of other classic horror and sci-fi monsters. Dark and funny, it showed that the show is still doing wonderful things, even if it can be spotty at times. A quick clip from another upcoming episode (in which Homer helps deliver a woman's baby in an elevator, voiced by Elizabeth Moss) was cute, and it made me look forward to tuning into the show more often this fall.
With Family Guy and American Dad on deck, it was time to make my exit. Some shrimp tacos later, I knew it was time to get back on the road and head towards LA. A really great Con yet again — if you go, just resolve yourself to the fact that it's A) crowded, and B) you aren't always going to get into what you want, unless you are willing to camp out for it. There's plenty to see and do, just go with the flow. Thanks Comic Con!