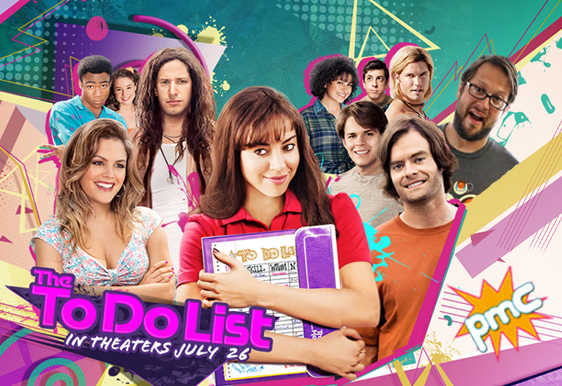 The To Do List
2013, 1 hr. 44 min
R
Grade: C
The To Do List is a raunchy comedy that takes place in the '90s — so much so, that it beats you over the head with it. 1993, in fact, which is precisely when I was about to finish high school and head off to college, so the era has a very special place in my heart. It's one thing to set a film in a time period to dial up some nostalgia — but constantly calling it out instead of just existing in it can make one crazy. Such is the case of this fairly entertaining but troubled comedy from writer/director Maggie Carey, who seems to have a soft spot for the early 90s that, in addition to soundtrack littered with The Cranberries, The Gin Blossoms and Big Head Todd and the Monsters (a LIVE version of Bittersweet, to boot), constantly references things like pagers, Street Fighter II, Growing Pains and Saved By The Bell. One character, who is obsessed with the movie Beaches, remarks that she's "got it on VHS," which is a statement that pretty much no one said in 1993, as there wasn't any other format options — a simple "rented it" would have sufficed. This might sound like I'm nitpicking, but calling attention to these things became more and more irksome every time. Let me notice the hypercolor shirt, you don't have to have someone remark, "You look good in hypercolor."
The film follows high school Valedictorian Brandy Klark (Parks and Rec's Aubrey Plaza, who notriously promoted the film across her chest before being booted out of the MTV Awards after handing a drink off to Will Farrell onstage), an ace in all things booky but clueless in the ways of sex and love. After lusting after a Def Leppard-playing bo hunk at a party (played well by Friday Night Lights' Scott Porter), she decides to get some experience before heading off to college in the fall, thus putting together her sexual to do list in her trapper keeper and checking things off one at a time, all the while working as a lifeguard at a pool. Conveniently, all the films major players and objects of her lust and affection work there, too — in addition to Porter, there's pervy Duffy (Christopher Mintz-Plasse), naive partier Derrick (Community's Donald Glover), burnt out pool manager Willy (Bill Hader), and nice-guy-lab-partner-overall-love-interest Cameron (Johnny Simmons), who holds a flame for Brandy throughout her sexual conquests. In this respect, the film is similar to The Way Way Back, which also took place at a summer watersource and tapped into nostalgia, but was more about the environmental details and less about calling them out.
Plaza plays the uptight but ultimately liberated Brandy well, and she has good chemistry with her girlfriends (played by Alia Shawkat and Sarah Steele), who help guide her throughout the film. Simmons elicits lots of laughs as Cameron (and an occasional "awwwww!" from the ladies at my screening, as he has a nice collection of sad-sack moments) and the film totes an impressive comedic cast (Andy Samberg, Jack McBrayer, Brian Huskey, Rachel Bilson, Clark Gregg , Connie Britton and Nolan Gould also star). Hader also puts in some good work in the juiciest supporting role as Willy — he also served as a producer on the film, as well as husband to its writer/director.
Ultimately, the script doesn't quite live up to the lively premise. There are moments of inspired comedy, but also a lot of gross out gags a la American Pie, and a tone that shifts from coming of age/sexual awakening to genre/timeperiod farce. It just never quite clicks the way I wanted it to — it's refreshing to see a film like this told from the female point of view, but at the end of the day, its still chock full of graphic semen and poop jokes. And so, much like Brandy, the film is stuck between high school and college — well-meaning, a little awkward and juvenile, still trying to find out who it is, but with a lot of potential.