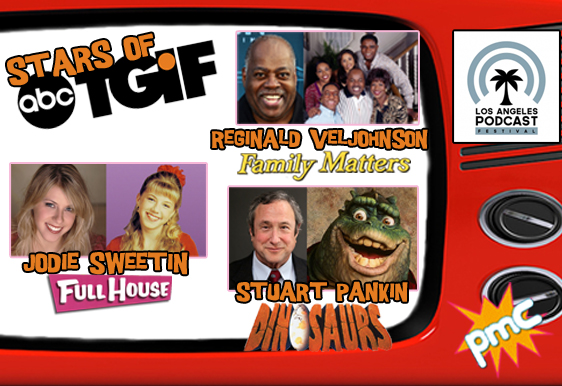 Pop My Culture Podcast Live
"Stars of TGIF"
with
Reginald Veljohnson (Family Matters)
Jodie Sweetin (Full House)
and Stuart Pankin (Dinosaurs)
Join hosts Cole Stratton and Vanessa Ragland as they present their Pop My Culture Podcast, live at the second annual Los Angeles Podcast Festival! They'll celebrate the shows of TGIF, ABC's beloved lineup of sitcoms from the 80s and 90s with guests from some of their flagship shows — Reginald VelJohnson (Carl, head of the Winslow clan on Family Matters); Jodie Sweetin (spunky middle Tanner child Stephanie on Full House); and Stuart Pankin (voice of Earl Sinclair, head of the household on Dinosaurs). Don't miss this rare chance to Thank Goodness Its Friday — on a Saturday!
Come say hello! We'll be hanging out at the lounge (it's a thing, apparently!) and we'll have tees for sale and such! Hope to see some of you there!
Saturday, October 5th, 6pm
Espada Room, Sheraton Delfina Hotel, Santa Monica
Passes and info: lapodfest.com